Asphalt Fabric Tampa
Asphalt Fabric Tampa
Asphalt Fabric tampa and Fabric Overlay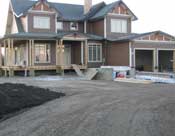 Asphalt fabric Tampa. When widespread surface cracking develops on aging pavement, an asphalt fabric overlay is a reliable alternative to costly excavation and replacement of the cracked and deteriorated asphalt.
Most cracked and distressed surfaces arise from surface water seeping through untreated cracks in the pavement. When water enters the base of the pavement, the base material can become compromised, leading to further cracking. High traffic volumes and vehicles carrying heavy loads (garbage trucks and delivery trucks can be especially damaging) can also lead to excessive surface cracking. Simply attempting to seal or applying a skin patch to these heavily damaged areas will provide only a temporary solution as the existing cracks will quickly reflect through the new surface.
Although reflective cracking cannot be completely eliminated, the use of a fabric overlay significantly slows the reflective cracking process by forming a moisture resistant barrier that prevents water from passing through cracks, joints, and the pavement itself, preserving the structural integrity of the base. In addition, the fabric forms a shock absorption layer in the asphalt. This greatly reduces tensile stresses within the pavement, resulting in a dramatic increase in the life of the asphalt overlay.
What is the fabric?
The fabric in a fabric overlay is a non-woven, petroleum-based geotextile fabric which is field saturated with an asphalt cement tack coat. When placed between pavement layers, the fabric becomes an integral part of the pavement, forming a barrier to water seepage and absorbing stresses to reduce reflective and fatigue cracking of the new asphalt surface layer.
We Guarantee The Lowest Quote on Asphalt Fabric Tampa!
Brings us ANY competitors quote from a licensed Tampa FL Contractor and A&A Development will BEAT IT! Put our 50+ years of construction and asphalt paving experience to work for you.