Colored Concrete Tampa
Colored Concrete Tampa and Concrete Designs
An overview of options to color concrete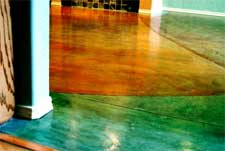 For many admirers of decorative concrete, the best attribute is that each installation is totally unique. Concrete can assume nearly any shape, design, pattern or texture. But the one characteristic that most distinguishes decorative concrete is color, whether used subtly to blend with nature or boldly to make a dramatic design statement.
Frankly, unless you're a purist and prefer concrete in its plain-gray state, there's no reason not to enhance it with color. The number of different products for coloring concrete has never been greater, and many manufacturers offer an extensive palette of shades to choose from for colored concrete . And although you'll pay more for colored concrete, the amazing transformation will be well worth the investment. In the hands of a creative contractor, these coloring mediums permit an endless array of decorative effects, from rustic earth-toned sidewalks and patios that harmonize with the surrounding landscape to vibrant multicolored floors that double as works of art.
Don't rely on color charts alone.
The color charts or cards provided by the color supplier may not precisely represent what the final results will be on your project. With integral pigments, the final color will vary depending on the cement color, sand color and the amount of water used in the mix. With surface-applied treatments, especially reactive chemical stains, the color can vary widely depending on the condition and original color of the base concrete. Always conduct a trial application of any color treatment you plan to use.
Consistency counts.
For new concrete, it's important for every batch of concrete used on the project to be consistent, including cement type and brand, aggregates and water-cement ratio. When different batches of concrete vary slightly on the same job, they may absorb stain or dye differently, resulting in noticeable color variations. Inconsistencies in finishing practices, timing of operations, and curing and sealing methods can also result in slight color variations
Consider custom color matching.
If you can't find just the right color for your project, ask the color manufacturer or your decorative concrete contractor about the possibility of custom color matching. Many color suppliers are able to match existing color tones or formulate custom hues to suit your design scheme. With most stains, it's possible for the applicator to achieve custom shades by mixing two or more colors or by applying one color over another. Most dyes also allow flexibility in the end color because they are packaged in concentrated form and can be diluted or blended to produce custom hues.