ADA Compliance Tampa
Tampa ADA Compliance Services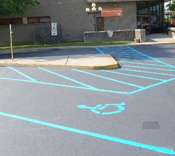 The Americans with Disabilities Act (ADA) was passed in 1990 and is an important piece federal legislation which requires the removal of barriers that prevent persons with disabilities from full and equal access to public areas. This law has proven difficult and costly to implement, that's why it's important to have an ada compliance Tampa specialist.
Federal law provides for court ordered relief to stop ADA violations, as well as payment of plaintiffs' attorneys' fees. Plaintiffs can also recover actual, punitive and statutory damages. This has resulted in an increase of ADA lawsuits and "professional plaintiffs" that use "sue and settle" tactics which have been very effective.
If you're are looking or the best information, quality and prices for your next construction project, let A&A get give you the highest quality workmanship, for the absolute lowest cost.
Are You ADA Compliant?
Section 504 Compliance mandates accessibility to programs and services funded by the Division of Cultural Affairs.
Section 504 of the Rehabilitation Act of 1973 mandates that all organizations receiving federal funds make their program accessible to all persons regardless of disability.
The passage of the Americans With Disabilities Act of 1990 requires that all facilities and programs provide for accessibility to persons with disabilities.
Common Errors in ADA Compliance Construction
There are several mistakes that are made when building to ADA compliance construction. With restrooms and shower facilities, there are some errors that are more common than others. Here are a few to keep your eye out for on your next ADA compliant construction project.
Restrooms – Many restrooms with over five separate toilet stalls lack the required "ambulatory" stall dimensions. ADA compliant construction requires at least one stall with 36 inch wide accessibility. People with wheelchairs or canes have limited mobility and need this size to properly and safely use the restroom.
Bathing Facilities – If you provide your handicap users with a shower facility, you will use a transfer show to assist them in getting in and out of the shower. There is a required size for these at 36" x 36". You would think that the common error is in making these too small, but it is really in making them too large. When made too large, users can slide and fall off of the seat and hit the floor. There can also be complications in being able to reach the shower controls. Be on the look out for these common errors in ADA compliance construction. The fines aren't worth not following the rules extra closely.
Put A&A Developers 50 years of Tampa Asphalt Services to work with you. We look forward to meeting you,
We Guarantee The Lowest Quote on ADA Compliance Construction!
Brings us ANY competitors quote from a licensed Tampa FL Contractor and A&A Development will BEAT IT! Put our 50+ years of construction and asphalt paving experience to work for you.