Demolition Contractor
Demolition Contractor Tampa
Introduction to Demolition Construction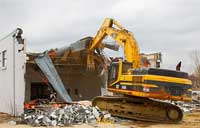 Demolition work involves many of the hazards associated with construction. However, demolition incurs additional hazards due to unknown factors such as: deviations from the structure's design introduced during construction, approved or unapproved modifications that altered the original design, materials hidden within structural members, and unknown strengths or weaknesses of construction materials. To counter these unknowns, all personnel involved in a demolition project must be fully aware of these types of hazards and the safety precautions to take to control the hazards. Demolition hazards are addressed in specific standards for the general and construction industries.
Demolition Standards
This section highlights OSHA standards, standard interpretations (official letters of interpretation of the standards), and national consensus standards related to demolition.
OSHA
Note: Twenty-five states, Puerto Rico and the Virgin Islands have OSHA-approved State Plans and have adopted their own standards and enforcement policies. For the most part, these States adopt standards that are identical to Federal OSHA. However, some States have adopted different standards applicable to this topic or may have different enforcement policies.
SOURCE – United States Dept of Labor If you're are looking or the best information, quality and prices for your next construction project, let A&A get give you the highest quality workmanship, for the absolute lowest cost.
Put A&A Developers 50 years of Tampa Asphalt Services to work with you. We look forward to meeting you,
We Guarantee The Lowest Quote on ADA Compliance Construction!
Brings us ANY competitors quote from a licensed Tampa FL Contractor and A&A Development will BEAT IT! Put our 50+ years of construction and asphalt paving experience to work for you.